Michael Roache
Biography
I am one of the most positive and congenial personalities you would ever meet!

I dwell on inspiring self-confidence in everyone I come in contact with believing that, if you look closely enough beyond each man's flaws, there is a plethora of potential waiting to be discovered, unearthed and channeled in the right direction.

Celebrating others successes is like applauding my own. I believe that God created us equal and part of a universal chain where we are only as strong as the weakest link.

I have a fascinating imagination, always stretching for limits beyond the scope of doubt and fear and believing that one day, just when I least expect, those possibilities will come within comfortable reach.

Marie Curie, the famous French/Polish chemist and physicist said it best: "Nothing in life is to be feared, it is only to be understood..."
Where to find Michael Roache online
Books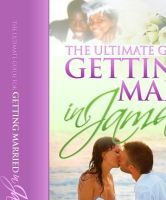 The Ultimate Guide for Getting Married in Jamaica
The Ultimate Guide for Getting Married in Jamaica is a MUST-Have for any couple planning to get married in Jamaica. You will be taken on virtual rendezvous to the most affable and romantic wedding destinations on the island paradise, Jamaica. Discover little known romantic honeymoon hot-spots plus unbelievably low-cost wedding packages, critical Jamaica wedding preparation tips & much more.