Ali Abbas
Biography
"The writer has a law degree and is also a litigating lawyer. He travels alot and prefers a nomadic lifestyle; "prefers" being the operating verb in the previous sentence. Due to economic reasons these days he is forced to stay indefinately in Islamabad. He keeps himself busy by hanging out in the District Courts. At one point in his life he was a yoga teacher! While growing up he had had the privilage of living in quite a few countries, and because of that is sensitive to other cultures. He began to write Tamiz ud din Von Elephant in the year 2010 and was done writing by November 2011. The book was described by most critics and "a lot of non-sense making too much sense for people with or without sense" hence no one was willing to take the risk for publishing it. He is also attempting to work on the second book in the Von Elephant series. He was also an idealist as a teenager (but who isn't)."
Where to find Ali Abbas online
Where to buy in print
Books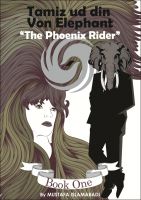 Tamiz ud Din Von Elephant: Book 1, The Phoenix Rider
Tamiz ud din Von Elephant; the Pheonix Rider" is about the story of Tamiz a half elephant/half human fallen aristrocrat living in Daba a fictional town in a speculative world of the Solar Empire. He find himself reluctantly at the head of a rebellion against the Solar King Gigatron and his absolutist state machinery.