Mark and Kathleen Rambo
Biography
Mark Rambo is a follower of Jesus and Associate Pastor at First Baptist Church, Olympia WA. He has served on that staff almost 15 years. He is also the lead facilitator of Emmaus House, a community of believers interested in building bridges for those timid about entering the walls of the established church. He is married to Kathleen and together they strive to live out the teachings of Jesus in tangible ways in their local community.
Where to find Mark and Kathleen Rambo online
Books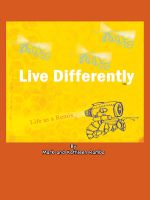 Live Differently
Live Differently is a postmodern discipleship guide that focuses on Belonging (Community), Becoming (Community Spiritual Practices) and Believing (the How of Faith), which leads to soul transformation (re-Living). Live Differently encourages conversation and dialogue whether you consider yourself a seeker, skeptic or believer.
Mark and Kathleen Rambo's tag cloud