Bob Wartinger
Biography
Bob Wartinger is an active powerboat racing driver and official. As President of the Safety and Medical Commission of the Union of International Motorboating for more than 20 years, he is a sought after expert on lessons learned from safety improvement programs. His racing career includes three World Championships, 24 US National Championships and 124 national and world speed records. As a trusted advisor, with a corporate career as a senior executive, he is invited to speak internationally on topics including safety and performance in boat racing, organizational behavior, marketing psychology and conflict resolution. He has been featured and interviewed by the BBC, Discovery Channel, CNN, History Channel, National Geographic Channel, NBC affiliates, The New York Times, Aviation Week, and a number of other periodicals.
Where to find Bob Wartinger online
Where to buy in print
Books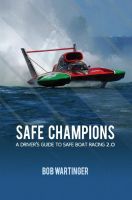 Safe Champions
Safe Champions condenses the latest insights from boat racing worldwide into a practical user guide. Years of material collected from the experiences of successful drivers help a driver to achieve their personal best. If you are a powerboat racing participant, officiant, or simply an enthusiast, you will find that Safe Champions is an informative read that can take your skills to the next level.