Wendy Jackson
Biography
Wendy Jackson has lived in Hertfordshire all her life and now spends much of her time in voluntary work, which has given her the opportunity to meet people of all ages and different cultures and helped her to develop her creativity. Having satisfied her passion for writing through poetry and songwriting, she has now turned to junior fiction. She says that Charlie Mace and the Big Stink, her first book, was written to give rein to the depths of what she calls 'my crazy imagination'.

The idea for the story came from a peculiar house she passed one day. In her imagination the scene grew into a different world, a world where big was small and small was big, where nothing was quite as it seemed and where a boy needed to be brave and resourceful to turn the tables on his enemies.
Where to find Wendy Jackson online
Books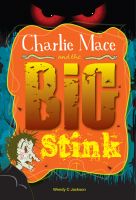 Charlie Mace and the Big Stink
Sniff Street was the dirtiest, scruffiest street in Bogsley, and Miss Potts' house was the most disgusting and revolting of all the disgusting and revolting houses in it. One day Charlie finds himself cornered by Miss Potts, and is roughly transported into a strange woodland world, a world in which he encounters a very odd collection of beings.