William Ruggiero
Biography
I am an aspiring 16 year old author/musican that loves to express himself. Ever since I was little, the arts have always allowed me to express myself in a way that nothing else could. I initally started out by studying guitar at a preforming arts school, but soon figured out how poetry (and different styles of literature for that matter) was a great way to convey meaning. When it comes to the way I create, I have always focused on life-tie-ins and questions that would make others (and myself) think. I believe the greatest asset we have is the ability to think freely and make decisions in our lives, and my works will always show that.
Where to find William Ruggiero online
Books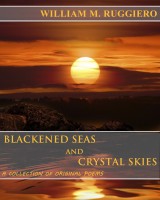 Blackened Seas and Crystal Skies
by

William Ruggiero
In life, sometimes you have to look at the world from a different standpoint than the obvious. This collection of poems range anywhere from history to philosophy, and truly reflect my thoughts on life in the world around us. Different emotions are utalized to invoke a deeper perspective, dynamically changing the way my poetry is interpreted. This book is a great way to both think and entertain.
William Ruggiero's tag cloud