William S. Bike
Biography
William S. Bike joined Central Park Communications in 1995 as vice president and was promoted to senior vice president in 2003.

Since 1979, Bike has worked in journalism or public relations for trade publications Dental Products Report and Business Insurance magazines; community newspapers the Oak Park News and the Berwyn-Cicero News (both of which he served as editor-in-chief beginning at age 24) and the Gazette Chicago Magazine; and for three universities: Loyola University Chicago, the University of Chicago, and the University of Illinois at Chicago.

Bike spent ten years at Loyola University Chicago's public relations department, the last five as director of university publications. He oversaw a $1 million annual budget and a dozen regularly scheduled publications including the 100,000-circulation Loyola Magazine. Under Bike's direction, he and his staff won 39 local, national, and international writing, design, and publications awards.

Bike has won the highest award in Chicago journalism, the Peter Lisagor Award, four times. He also is the author of the books Streets of the Near West Side (ACTA Publications, 1996, and 1st Books Library, 2001) and Winning Political Campaigns (Denali Press, 1998 and 2001) and the editor of Essays on Earl Renfroe--A Man of Firsts (UIC College of Dentistry Press, 2001).

A political pundit, Bike has made numerous radio, television, and print appearances concerning politics and government.
Where to find William S. Bike online
Books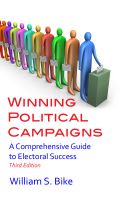 Winning Political Campaigns: A Comprehensive Guide to Electoral Success, Third Edition
A comprehensive handbook for planning, organizing and executing a successful campaign for elective office. Written in an easy-to-use format, the book is designed for both novice campaigners and experienced workers. Covers everything from advertising to building alliances, proper business practices, campaign literature, candidate behavior, media, voter contact, fundraising strategy and more.