Paul F. Witham
Biography
Born in 1958, Paul F Witham lives in Sheffield, England. He's putting it together to write a second novel, but it'd help if his first novel was put through the meat-grinder of public scrutiny. Well, whatever. He might write it anyway. It depends on how he feels. He's not exactly cutting-edge but he feels competent enough. 99 cents for a massive book isn't asking too much. Think about it.
Where to find Paul F. Witham online
Books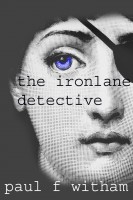 The Ironlane Detective
He longs for something to happen to give his life meaning. His mentor speaks of revolution; but Hobarsson knows he's left out. Now a telepathic voice gives Hobarsson the type of orders he has always wanted to hear. To arms! But... Disaster! Chaos follows as Hobarsson breaks free from his former life to journey with a fugitive alien - and the mysterious Mrs Grange - into perilous confrontations.
Paul F. Witham's tag cloud