Swain Wodening
Biography
Swain Wódening, one of the founding members of Englatheod and the Ealdriht, started his Heathen life back in 1984 along with his brother. He learned of the AFA the year it disbanded, but in 1989 he learned of and joined the Troth. Shortly thereafter, he learned of Theodism, then solely an Anglo-Saxon phenomena, and joined the Winland Ríce in 1993. He rapidly advanced to the arung of lord by writing articles and attracting new members. In 1996, after several disputes with the leadership, he left to form the Angelseaxisce Ealdriht with Winfred Hodge Rose. The Ealdriht grew to be the largest Anglo-Saxon Heathen and Theodish organization to ever exist. The Ealdriht eventually became the Miercinga Theod in an effort to encourage regionalism, and to return to a purer form of Theodish Belief. He led that organization until June, 2006 when he resigned to seek a deeper spirituality. His former wife Teresa then took over leadership. The Miercinga Theod disbanded in March, 2008 when Teresa sought a more private life, and left public Heathenry. In June of 2007, Eric, Swain's brother formed a new theod, Englatheod, and Swain became one of the founding members. Englatheod eventually became a part of White Marsh Theod. Swain is currently a member of Wednesbury Shire of White Marsh theod. He has one son, Oswin, and resides in Missouri.
Where to find Swain Wodening online
Books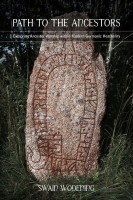 Path to the Ancestors: Exploring Ancestor Worship within Modern Germanic Heathenry
(5.00)
Long has the topic of ancestor worship in modern Germanic Heathenry been largely overlooked. While many within Germanic Heathenry worship their ancestors, other than a few mentions in books, blog posts, web pages and small publications there has not been a work dedicated to the topic. This short book seeks to be a first of its kind and broach the topic.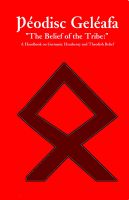 Þéodisc Geléafa "The Belief of the Tribe:": A Handbook on Germanic Heathenry and Theodish Belief
(5.00)
A book detailing the beliefs, practices, and mindset of Theodish Belief. "Þéodisc Geléafa 'The Belief of the Tribe'" dispels many of the myths surrounding Theodish Belief, and details the reality. It covers topics such as why to be tribal, the advantages of tribal Heathenry, the mechanics behind a theod, as well as the major rites. This is a must have book on Theodism.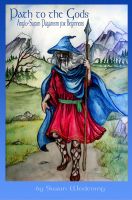 Path to the Gods: Anglo-Saxon Paganism for Beginners
Path to the Gods: Anglo-Saxon Paganism for Beginners contains everything you need to know to begin practicing the religion of your Anglo-Saxon ancestors. Within these pages you will be introduced to the Gods and Goddesses of Heathenry, and to fundamental beliefs and key concepts such as Wyrd, Frith, the Sacred and Holy, Heathen Thews (Virtues) and more. The basic rites of Heathenry are explained,
Swain Wodening's tag cloud