Nepomuk Onderdonk
Biography
I am a tiger who escaped from the circus - (escaped from consensual reality) - but got lonely, and returned to the circus with the powers that come from being free to leave. These powers are considered "schizophrenia" in western science, or "shamanism" in my native Aztec culture. There is a fine line dividing sz and shamanism, though, as I see it: the dreamer must control the dream, not the dream the dreamer. And I don't take meds, but I did take seroquel for 4 months, at 600mg a day, way too much, and quit cold turkey, ahd a bad 8-day experience, and I don't mess with that stuff anymore. I don't believe in gravity - I live in a non-ordinary unvierse model. And I am the leader of all matter and energy in the war against time. Abducted by aliens because I asked them to tell me a story, monsters come drawing paradise screens on the air; they were out fishing anyway and I just swam up to the hook. lightning justified, release unknown....
Books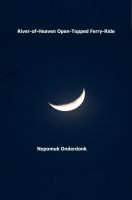 River-of-Heaven Open-Topped Ferry-Ride
By
Nepomuk Onderdonk
Price: Free! Words: 13,860. Language: English. Published: December 14, 2013. Category: Essay
After reading a few outstanding books on Taoist immortals over the years in the midst of other things, I had just moved to a new place with access to a backyard. I ended up getting myself an alchemy starter kit at Home Depot, and started communicating with the universe; I met the sun and moon, and developed a ritual, "clever and lofty", and I've explained it here.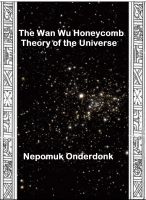 The Wan Wu Honeycomb Theory of the Universe
By
Nepomuk Onderdonk
Price: Free! Words: 4,330. Language: English. Published: November 1, 2013. Category: Essay
An armchair cosmologist through the three decades of the golden age of astrophysics, I developed my own model little by little, but also with a lot of help from the alternative ideas brought to light by other writers, some of the deeper and harder to sift through writers who nevertheless offer amazingly imaginative visions that are not limited by the accepted theories of modern day science, if the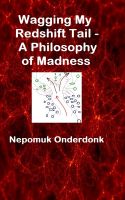 Wagging My Redshift Tail - A Philosophy of Madness
By
Nepomuk Onderdonk
Price: Free! Words: 91,640. Language: English. Published: April 27, 2012. Category: Nonfiction
It's work of philosophy and literature; the book "Writing and Madness" suggested that, after madness was set free from the insane asylums in the 60's, it's new home is literature, where it cannot talk directly to us, but instead intimates itself to us through the mysterious altars of the odd lives we read about and try to piece together.I have given my madness a home in "Wagging My Redshift Tail".
Nepomuk Onderdonk's tag cloud
Smashwords book reviews by Nepomuk Onderdonk
Operators and Things: the inner life of a schizophrenic on May 14, 2012
(no rating)
This is the rich material outlining an amazing case, with full recall of the logic entertained during the six-month-long psychosis, integrated and interspersed with original and penetrating theories on her own case, arranged in a masterful and literary way. The case that "Something" is actually just the "unconscious mind" of the individual, with "attachments" that "extend" into other minds and can interfere with the operation of physical gambling machines in Vegas, was not convincing enough for me, but I found that I could entertain my own psychoses, overlaid neatly over the ones in the book, quite easily, partly as a result of the great writing and presentation style, which kept the interesting constellation of ideas well organized and clearly arranged. And though written clearly from the point of view of a gratefully-recovered patient, the total recall of the depths of the psychosis was vivid and compelling enough to have me, at one point in the narrative, wanting to go out and get myself a copy of "Field & Stream" magazine and to walk around with it in full view, so that the Operators would think I'm an Operator and not just a Thing. Outside of the heat of the material itself, this is a great essay with turns of phrases and colorful ideation throughout. The oddest phrase of all may have stuck with me the deepest, out of all the other phrases in the book; our hero was, for six months, a "pixie in a garret". -Nepomuk Onderdonk, "Wagging my Redshift Tail, A Philosophy of Madness"