Jean Sumner
Biography
Jean Sumner has pursued an interest in wellness her entire life. An avid runner, she is passionate about exercise, eating healthy and maintaining a healthy lifestyle. Jean was diagnosed with cancer in May, 2009 and this has only served to fuel the flames of her passions and has encouraged her to learn more about wellness. This diagnosis actually led to the beginning of World Wellness Education with a mission of "Teaching the world about wellness — one story at a time."

As Jean pursued alternative methods of treating her cancer she met countless individuals who had great stories to tell regarding how nutrition, spirituality and exercise helped them to overcome their various illnesses. Since these stories were moving, motivating and timely she thought that each of these stories may make a difference in others' lives. With the knowledge that we learn from stories more quickly than other teaching methods an organization was born in hopes to make a difference in the well-being of every individual on the planet.

Prior to Jean's involvement with World Wellness Education she was a bank manager. With the significant change that was going on in the banking industry, Jean learned that her staff did much better with change if they took it one step at a time. She has now transferred this learning to the wellness industry and created small weekly changes that one can make which will lead up to a significant amount of positive change by the end of the year.
Where to find Jean Sumner online
Books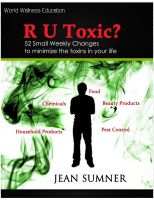 R U Toxic? 52 Small Weekly Changes to Minimize the Toxins in Your Life
We live in a toxic environment. There are toxins in the air, water and the earth. Our skin care products, food and household products are filled with toxins. The amount of toxins we are exposed to each day is overwhelming. These toxins are causing many diseases especially cancers. The growth rate of cancer is now off the charts.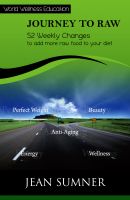 Journey to Raw - 52 Weekly Changes to add more raw to your diet
Journey to Raw is a book that will transform your life. This journey will take one year, the year is broken down into 52 small weekly changes which will help you to add more raw/live food into your diet. Would you like to be the perfect weight, have glowing skin, look younger, sleep better and have more energy? Well adding more raw food into your diet will help you accomplish all of these goals.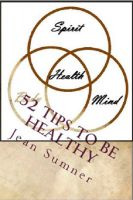 52 Tips To Be Healthy
How many times do we tell ourselves that we will make healthier choices? We want to be healthy. However, we do not want to make the changes needed to get healthy. We feel that these changes will be uncomfortable. It is true, making changes to live healthier can be challenging. However 52 Tips to be Healthy shows you how to easily make these changes. Become a healthier you beginning today!