Jaqueline Girdner Lynne Murray
Biography
Jaqueline Girdner and Lynne Murray

Jaqueline (Jaki) Girdner, tipping her hat in the author picture, was born and raised in California and has worked as a bestselling author, a lawyer, a professional poker player, a greeting card designer, an attendant in a mental hospital and a yarn store owner, not necessarily in that order. She has authored sixteen mysteries, a romantic comedy novel, What's Sex Got to Do With It, and a mainstream novel, Speaking in Jitterbug, upcoming soon from Smashwords. She lives in Mill Valley, California with her husband, practices tai chi and still creates greeting cards.

Lynne Murray was born in Illinois and due to her scientist father's work for the military she grew up traveling to Texas, Alaska, Florida, Washington state and finally Southern California. To get a degree in psychology she moved to San Francisco where she still lives. She has practiced Buddhism since 1968. She has written and directed a play and is the author of six mysteries, a romantic comedy for women who love horror movies too much and The Falstaff Vampire Files due in September of 2011.
Where to find Jaqueline Girdner Lynne Murray online
Books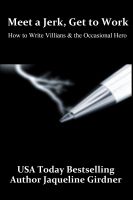 Meet a Jerk, Get to Work, How to Write Villains and the Occasional Hero
(5.00)
An article by USA Today Bestselling author Jaqueline Girdner on how to find your fiction characters and settings in everyday life.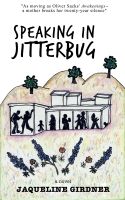 Speaking in Jitterbug
USA Today bestselling author, Jaqueline Girdner turns her poignant wit to a new Novel, Speaking in Jitterbug. As moving as Oliver Sacks' Awakenings--a mother breaks her 20-year silence. But is it too late? Girdner weaves the words of four daughters into the heartfelt tale of a family stunned by a mother's sudden return to life.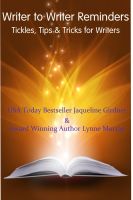 Writer to Writer Reminders: Tickles, Tips and Tricks for Writers
We are Jaqueline (Jaki) Girdner and Lynne Murray, two authors who met in a writer's critique group, and have gone on to become friends. We have had a combined total of twenty-four novels published—seventeen for Jaki and seven for Lynne. Our writing methods are so different that it's a constant reminder of how many ways there are to get words down on paper and tell a story.