Scott Donald
Biography
Scott Donald, spends his free time attempting to write a travel blog about his favourite town in Japan, Numazu, Shizuoka. He claims that this is because he is trying to help foreigners discover more about Numazu, but it might also be an excuse to go to a good restaurant. He also makes very wobbly travel videos. You can find out more about his blog at numazu.wordpress.com . As an obscure aside he has also written a number of band bios. He is currently working on his next travel book based on his up and coming adventure in Vietnam.
Where to find Scott Donald online
Books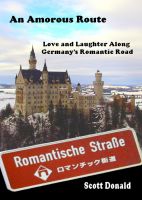 An Amorous Route: Love and Laughter Along Germany's Romantic Road
(5.00)
The number one job of the tourist is to entertain the locals... at least it is according to Scott Donald's light hearted account of love and laughter along Germany's Romantische Straße, or Romantic Road. With his wife in tow, he takes you on a winding winter journey full of gingerbread houses, seductive walled cities and castles with more than a little personality.
Smashwords book reviews by Scott Donald
Time Zones, Containers and Three Square Meals a Day on Feb. 19, 2011

Have you ever wondered what it would be like to travel the world on a container ship? What would the food be like? How would the ship staff treat you? Would there be anything to do but watch the endless rolling sea? Maria Staal's book 'Time Zones, Containers and Tree Square Meals a Day is for you. Staal is a veteran container ship traveler. For this adventure she has been commissioned by a shipping company to sail with one of their container ships as a tourist and document their travels at sea and compile information on the ports that she travels to from Asia through the Middle East and the Mediterranean and to the Americas. Her book tells an insightful journey recording the daily lives of the ships crew, the interactions with her fellow travelers on board and the ports she visits along the way. Staal uses a classic fictional hook to keep you turning pages through the first chapters before you settle into her unique style. The purely unusual concept of traveling by cargo ship is enough to keep you reading on, but Staal accentuates this with her blow-for-blow recounting of her conversations the crew and travelers on the ship. This style enabled me to develop an intimacy and affection with all that were on board. When she describes her surroundings she does so beautifully with rich detail. Her description of her first departure from La Spezia and her visit to a cathedral in Valencia are intriguing. Unfortunately these moments are rare and I would have liked the have seen more in-depth description of the other ports she took shore leave on. However, this may have be a result of her limited shore leave connected to the Container Ships busy schedule. The book has been formatted professionally and is on par with any publishing house. On rare occasions her narrative comes across as a little awkwardly formal and almost fictional in the detail of her recollected conversations. However, the cadence of her book progresses along fast enough for you to over look these nuances and be wondering what would be happening next. When Staal writes about the history of Suez Canal her penchant for history comes to the fore and you can follow her enthusiasm as she describes the earliest plans to construct the canal in 600BC right through to its reopening in 1975 one year after an agreement was made between the occupying Israeli forces and Egypt which later lead to the 1979 Egypt-Israel Peace Treaty. This is the third book Staal has written. Her other two books are based on the history and architecture of York in the United Kingdom. 'Time Zones, Containers and Three Meals a Day' is a fascinating insight into the relatively unknown world of container ship travel. Staal insights and easy ready style keep you turning the page.

Don't Drink the Water on May 20, 2012

If you are about to take off on a backpacking adventure then this book is for you. Cutting is the Twain of backpacking. His one-liners and anecdotes make his book one of the best travel books I have read in a long time.

Canada - When The Lights Go Out on May 27, 2012

As free books go, this isn't a bad read. Some of her word pictures were well written.