Tim Yearneau
Biography
I have been a semiconductor chip engineer, an importer, retailer, and marketeer, a computer consultant, a teacher, and an adjunct professor. I believe variety is the spice of life. I love to travel and have been to many places in this world, the latest of which are Australia, Singapore, and Australia. In the future I hope to visit many more places. I like to bike, play chess, play board games, and watch movies. This is my first book, which based on a class I taught as an adjunct professor. On another note, I entered the nanowrimo.com writing challenge in November 2010. It isn't a contest, it is a challenge. The Goal: In the month of November, starting November 1st and ending November 30th, to write a 50,000 rough draft of a novel. I ended up with 64,000 words and the month flew by at light speed. Well, that is all for now.
Where to find Tim Yearneau online
Books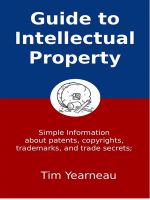 Guide to Intellectual Property
Now updated for AMERICAN INVENTS ACT (AIA). Simple information about patents, copyrights, trademarks, and trade secrets; protect your ideas.
Tim Yearneau's tag cloud