Yona M. Nonglang
Biography
Yona M. Nonglang is a Khasi from Shillong, North East India. Teilang a novel is her first work of fiction which she self-published in 2006 as a way of introducing it to local readership. This present edition is revised. Her second novel, written under a pen name, was e-published earlier this year. She is currently working on a sequel to Teilang.

When not writing, she reads. She also loves cooking, photography, and travelling with her husband Tim. Both of them are fascinated by the breathtaking beauty of the Himalayan region and its people.

Teilang was written for young readers with role modelling in mind. Yona is grateful to each one of them for their feedback.
Books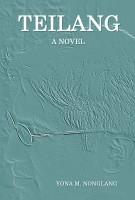 Teilang_A_Novel
by

Yona M. Nonglang
In Khasi, "Teilang" is both proper noun and verb - "build together" - a great concept. The character of Teilang gives life to that concept. The novel is a tribute to the good men and women of Khasi society in particular, and all good men and women in general. It celebrates the quiet revolution of industry and values at a time when opportunism and anarchy dominate news headlines everywhere.
Yona M. Nonglang's tag cloud