Yoshie Sugai
Biography
Yoshie gained her leadership and customer service skills growing up in a famous restaurant family in Niigata, Japan, where her father was a celebrated master chef and her mother a world-class restaurant manager. Yoshie has studied both Japanese and Western cultures, having learned Ikebana, Japanese dance, and Kendo. She is also an instructor of Preserved Flower Arrangement, and is a Licensed Massage Therapist in Japan and Internationally. She learned Aikido overseas and in Japan over the last 10 years, and she is a black belt in Seifukai Aikido. Upon completing finishing school in Tokyo she then went backpacking through more than 27 countries around the world. She is currently practicing Aikido and other sports six days per week, and is studying Tea Ceremony, is managing the SugaiLabo, and is putting her top priority on being a mother of two growing boys. For the past 10 years she has been researching how to effectively integrate the techniques and principles of Japanese culture and the Japanese Martial Arts and into an effective Leadership training solution. The Biz道 programs are the result of these ongoing efforts. She also is the inventor of the BizDojo Software System which enables Leaders and their Companies to implement Biz道 principles easily and effectively.
Where to find Yoshie Sugai online
Books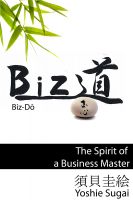 Biz道, ビジネス達人の心
Biz道とは - ビジネスの最高至善の心(玉心)を学ぶ道。 - 玉心とは、自他共栄のビジネスを行ない、そしてどのようなチャレンジや問題にも円滑かつ冷静に対応できるビジネス達人の心。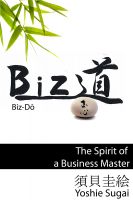 BizDo, The Spirit of a Business Master
What is Biz道 ? Biz道 (Pronounced "Biz-dō") is the way to learn the highest level of business excellence, which I call "Gyoku Shin". Gyoku Shin is the Spirit of A Business Master, an individual who conducts business in the spirit of mutual prosperity (In Japanese, this is called "Jita Kyoei") and can respond calmly and smoothly to any challenges and problems.
Yoshie Sugai's tag cloud