Zachery White
Publisher info
I'm into what you are into. Try me on for size. Your kink is my kink and my eye is on the prize. Whether it's black or white or big or small, I enjoy great kinks and I love them all. I write what I feel and I feel what I write, if you read my stories you'll get off all night.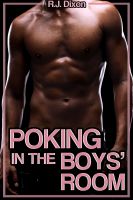 Poking in the Boys' Room
After Coach walks in on the school's weight lifting champion in a compromising position, he knows he had a chance to take advantage of the situation. Coach promises not to tell the Athletic Director as long as Gabe lets him fulfill his oral fixation on him in the middle of the locker room.
Zachery White's tag cloud