Zuleima E. Rivera
Biography
Zuleima E. Rivera Ortiz, born in Bayamon, Puerto Rico. Obtained his BA in Criminal Justice "American Unversity of Puerto Rico" in Bayamón and an Associate Degree in Mediation of Conflict at the "American University School of Law", in Hato Rey. Get rich experience in his working life in all matters relating to the administrative system of corporations and paralegal. He was educated separately in various culinary arts, alternative medicine and international cultures.
It was not until 2010 that his son was born, Yahir A. Perez Rivera who inspires her to make another kind of personal quest. In that search, find a genuine passion for writing skills aimed at encouraging children of all ages and this wonderful tale ending "Jenny and the Darkness."
Zuleima not want it to be his last work, is expanding internationally through childhood stories full of wit which shows a magical world full of meaning and innocence.
Where to find Zuleima E. Rivera online
Books
Jenny y la Oscuridad
Luces, sombras, risas y más. Descubre con la curiosa Jenny lo importante y maravillosa que es nuestra imaginación y como la podemos utilizar para transformar todo a nuestro alrededor.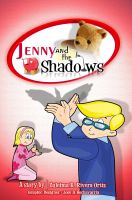 Jenny and the Shadows
Lights, shadows, laughs and more. Jenny discovers the strange and wonderful how important it is our imagination and how we can use to transform everything around us.