The Jak Phoenix Adventures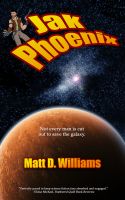 Jak Phoenix
Jak is a pilot who would rather kick back with a cold drink than stick his neck out to save the galaxy. But, as we all know, life often gets in the way of these 'big dreams.' In the spirit of space operas of old, comes a light hearted, action packed novel following the exploits of the best low quality pirate in the galaxy - Jak Phoenix.
Jak Phoenix 2: The Markazian Deception
Things aren't always as they seem when Jak finds himself forced to take sides in a dispute he doesn't fully understand. He quickly finds his choices could jeopardize not only himself, but his friends and countless others. Friendships will be tested and loyalties will be questioned in the second action packed Jak Phoenix adventure!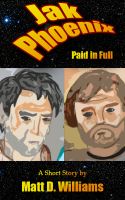 Jak Phoenix: Paid in Full (A Short Story)
An all new Jak Phoenix space adventure, set before the events of the first novel! Jak and Baxter are asked to pull off a seemingly simple grab – for a big payout. Unfortunately, shady dealings frequently end in space shenanigans.