Complement for a King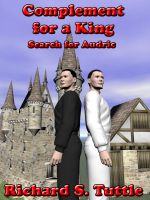 Complement for a King I: Search for Audric
The Great Peace in the Land of the Nine Kingdoms has lasted for ages, but that is about to change. The events surrounding the accidental death of a queen fuels a rage in a young magician, and she sets out to exact her revenge on the world. Little does she know that by using the dark arts of the Talent, she will drag the Land of the Nine Kingdoms into a fight for its very survival. Part 1 of 2.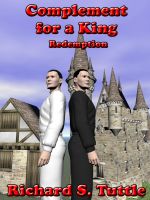 Complement for a King II: Redemption
The Great Peace is shattered. War is upon the Land of the Nine Kingdoms, but Antion and his friends journey beyond the Roof of the World to find a mage who vanished eons ago. If Orro still exists, he is Jared's only hope to get the knowledge needed to fight the evil that is subduing the world, but Antion has doubts that Jared will be able to fulfill his mission even with Orro's help. Part 2 of 2.