Amica Saga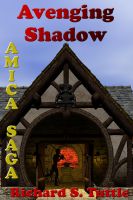 Avenging Shadow (Amica Saga #1)
A young village blacksmith is dragged into a world of intrigue, rebellion, and assassination when the appearance of a magical sword of legend turns his world into chaos. Avenging Shadow is the first volume of Richard S. Tuttle's latest epic fantasy adventure, Amica Saga.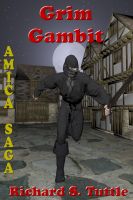 Grim Gambit (Amica Saga #2)
What starts out as a short trip to a temple turns into a race to stay alive as Marcus and Antioch are pursued by a mage enforcer and bounty hunters. Prodded by a priest and a caravan warrior, Marcus finally accepts his fate as the Avenging Shadow and dives into a deep conspiracy that is enslaving the population of Grim and cornering the market for iron.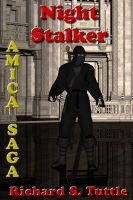 Night Stalker (Amica Saga #3)
Thefts, assassinations and political corruption rock the Amican Riviera as powerful rouge mages intent on world denomination quietly work their blood magic. The authorities seem incapable of stopping the crimes as the Avenging Shadow joined by old friends and new allies leaps into the fray but will it be enough to stem the rumblings of a resurgence of the ancient Mage Wars?