Bowen & Baile: Western Detectives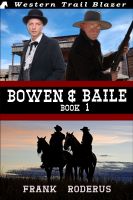 Bowen & Baile: Book 1
~ A Dime Novel by award winning author Frank Roderus ~ A death in the family means a return to a former way of life for Howard Bowen. He gave up hunting men years ago, but no one else can do this job. He meets a greenhorn, Edward Baile, equally determined to see justice done, who carries a new weapon--a Mauser. Bowen agrees Baile can come and together they hit an unknown trail, seeking five men.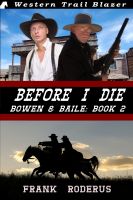 Before I Die: Bowen & Baile Book 2
~ Dime Novel Western short ~ The first official job for the Bowen & Baile Detective Agency seemed straightforward – find a missing wife and bring her home before her husband succumbs to cancer. But nothing is ever as easy as it sounds. Searching for the 'lady' in question takes the partners from fine hotels to the seedier side of several Colorado towns. Will they accomplish their goal in time?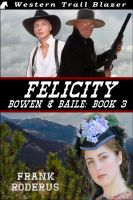 Felicity: Bowen & Baile Book 3
~ Dime Novel Short ~ Jonathon Two Hawk disappeared and his wife – or widow – wants Cole Bowen and Edward Baile to investigate. What she really wants is for Bowen and Baile to kill the man she believes has murdered her husband and stolen more than seventeen thousand dollars from him. The partners are not assassins. But if someone tries to murder them, it will happen at that party's peril.