Dragon Shaman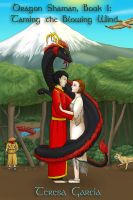 Dragon Shaman: Book One, Taming the Blowing Wind
BlowingWind, a half Irish and half Apache trying to mesh and understand her heritage, has a strange enough time figuring out her life. When she thought things were finally starting to have a plan, the Spirit she was in love with dies in his duty, and his soul splits... as does her own. What is her real calling, and what of the ancient O'Drake curse? Why is the Japanese dragon she finds familiar?
Dragon Shaman: Book Two, The Smoky Mirror
BlowingWind and Ryu expected to be able to get on with living, but Fate has a different idea for the young Shaman in training and her Dragon Protector. Continuing her adventures between the worlds of Spirit and Man, BlowingWind traverses the worlds, and even time itself to regain the Smoky Mirror. Will she succeed, or will she get lost in the threads of the tapestry she is caught within?