The Vorinovs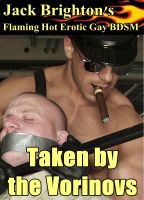 Taken by the Vorinovs (Flaming Hot Erotic Gay BDSM)
Two handsome Scottish lads run into holiday trouble when Mastorvia's chief of police, Alexi Vorinov, decides he wants them both as sex slaves. Aided by Evgeny, his deceptively charming nephew, Chief Vorinov snares these horny young men in his web of power with trumped up charges. He then divides and conquers, abusing each man in turn, manipulating mind and body to take what he wants.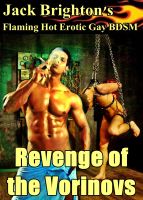 Revenge of the Vorinovs (Flaming Hot Erotic Gay BDSM)
Evgeny Vorinov was framed by his jealous young lover, Peter, and publicly flogged - his Uncle Alexi being forced to yield the blows. Seven years later their paths cross again and revenge is sweet for the Vorinovs, but very very bitter for Peter! Entrapment leads to blackmail then to hideous torture and sexual abuse. The revenge of the Vorinovs is brutal indeed!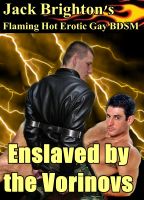 Enslaved by the Vorinovs (Flaming Hot Erotic Gay BDSM)
A master plan is hatched and a master is revealed as the all powerful Vorinovs lead a hunky young Aussie down the tortuous path to enslavement. The action is fast and the sex sizzling hot. The plot is full of convoluted twists. It's an adventure of a lifetime not to be missed. Painful for some, but that's part of the fun. Being 'Enslaved by the Vorinovs' couldn't be any other way!