Six Scary Tales Horror Stories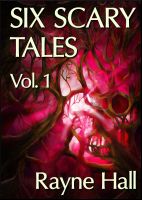 Six Scary Tales Vol. 1
Six creepy, atmospheric, spine-tingling stories by Rayne Hall. Volume 1 contains 'Only A Fool', 'Four Bony Hands', 'The Black Boar', 'Double Rainbows', 'Druid Stones' and 'Burning'.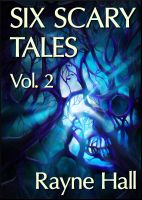 Six Scary Tales Vol 2
Six spine-tingling stories from the Mistress of the Macabre, Rayne Hall. This collection contains 'Scruples', 'Seagulls', 'Night Train', 'Through the Tunnel', 'Black Karma' and 'Take Me To St Roch's'. Some stories have been previously published. PG13. British spellings.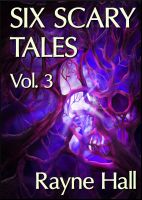 Six Scary Tales Vol. 3
Six more creepy horror stories from the Mistress of the Macabre, Rayne Hall. Some stories in this series have been previously published in magazines, ezines and anthologies, others are published here for the first time. Volume 3 contains these stories: Turkish Night, Never Leave Me, Beltane, The Colour of Dishonour, The Painted Staircase, I Dived The Pandoora