Hekate's Passage: A story of sex and rock'n'roll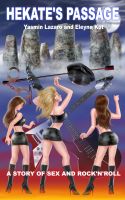 Hekate's Passage: A Story of Sex and Rock'n'Roll, Part 1, Vol. 1
Fantasize about a steamy encounter with a gorgeous horny beast of a rocker. Full of sizzling sex with four rock stars, this novel satisfies even the most insatiable appetite. Join a young woman from Argentina and her three girlfriends as they explore the limits of their sexuality with kinky, erotic experiences. And what happens when they revive an ancient fertility ritual of the goddess, Hekate?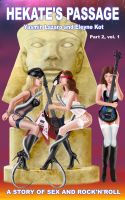 Hekate's Passage, a story of sex and rock'n'roll, part 2, vol 1
The continuation of sexual adventures of Yasmin and her friends who travel in time to 1985 to meet their favourite heavy metal band. What happens to them after the dirty, climactic night that the first part ends with? Perhaps what the girls experience is just too much for them too take - they think they have crossed all their sexual limits. Won't they regret it? How will they come back to 2011?