Arbiters of Justice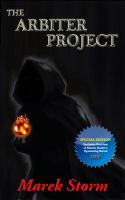 The Arbiter Project
A conspiracy involving the government and military cause Adam Lucas and Hans Richter to flee to a remote island in the North Pacific. When Sigmund Richter picks up his father's research, the results could have either profound or catastrophic effects on the future. With the fate of mankind and their existence at risk, members of The Agency travel to their past to help Sigmund correct the timeline.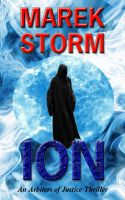 Ion
By
Marek Storm
Series:
Arbiters of Justice
, Book 2. Price:
$6.99 USD.
Words: 111,250. Language: English. Published: November 28, 2011. Category: Fiction
He can't remember his name. He has no memories. He only knows that he is Ion, an Arbiter bestowed with special powers. Programmed to serve as judge, jury, and executioner, his purpose is to deliver justice to those who have slipped through the cracks of a justice system plagued by greed and corruption. His verdicts are fair and unbiased until his past starts to push through the walls of his mind.