Science & Technology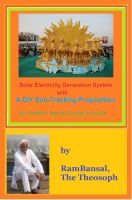 Solar Electricity Generation System with a DIY Sun-Tracking Proposition
Energy from the Sun is freely available to most of the humanity while it is getting costlier from the electricity grids. The book informs the readers about generation of electricity from the Sun makes a proposition of a DIY project. The book provides all the useful information about power from the Sun and by using the proposition, a reader may find freedom, ease and economy in use of electricity.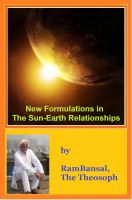 New Formulations in The Sun-Earth Relationships
Here are two new formulations for the Sun-Earth distance, size of the Sun and their relative motion, with mathematical computations based on well-established scientific observations on the relationship. The formulations have been felt necessary because there are enough reasons for doubts on the current assumptions of the scientific world.