Scandalous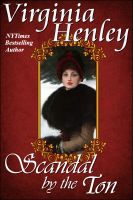 Scandal By The Ton
By
Virginia Henley
Series:
Scandalous
, Book 1 ·
Scandalous
, Book One of Scandalous. Price:
$3.99 USD.
Words: 42,580. Language: English. Published: July 26, 2013. Category: Fiction
When Viscount Nicholas Royston, A British diplomat, sees his name in the infamous gossip column 'Scandal by the Ton' he sets out to unmask the author's identity. Lady Julia Shelborne, however, is determined to keep him in the dark.