Jelly Mom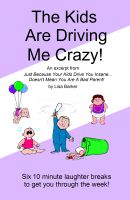 The Kids Are Driving Me Crazy!
By
Lisa Barker
Series:
Jelly Mom
, Book 1. Price: Free! Words: 7,630. Language: English. Published: September 11, 2013. Category: Nonfiction
Six 10 minute laughter breaks to get parents through the week. A small sampling of Lisa Barker's humor based on the once popular online parenting humor column, Jelly Mom(TM). If you like this sample, you'll love her books: Just Because Your Kids Drive You Insane...Doesn't Mean You Are A Bad Parent! and Before I Had Kids I Was a Size 9.