Short Stories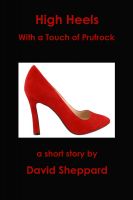 High Heels, With a Touch of Prufrock
I wrote this short story during the summer of 1992. It helped me flesh out a couple of characters in my first novel, The Escape of Bobby Ray Hammer, which I was writing at the time. I wrote it one Saturday evening, and the next afternoon, I read it to a rather large writing class. Our instructor loved it, and the class, mostly women, gave it a loud round of applause, something unheard of.
Walking That Short Distance, Childhood Enlightenment in the '50s
I wrote this short story (1987) for a class in creative writing at the University of Colorado. It is the most autobiographical story I've ever told. It's sort of a compilation of events from my own life with some alterations of family composition. I know it's difficult to believe, but I've known kids who were even more naive at eleven than I was. How things have changed in sixty years.
Grand Canyon Lament, A Fateful Lesson in Extraordinary Measures
I wrote this short story for a class in intermediate fiction at the University of Colorado back in 1987 after reading a short story by John Ashbery titled, "Description of a Masque." I wrote it during the spring semester and just before I attended the Aspin Writers Conference, a life-altering event for me.