The Seventh Age of Man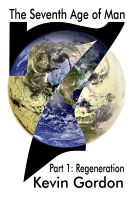 Seventh Age of Man: Regeneration
The Earth has been devastated by tragedy. After an alien voice broadcasts a Countdown around the world, all life above water ages 50 years. All plant and animal life is gone in an instant, and all humans age 50 years. The stars change, signaling the Earth has traveled to a new location. The survivors are faced with two daunting tasks; how do they recover from disaster, and how can they prevail?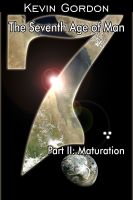 The Seventh Age of Man: Maturation
It's time for Brian to grow up. The world has heard another Countdown, and life has aged across its surface. Brian, new leader of the Homestead, finds himself the one responsible for not only bringing back his civilization, but his planet as well. Though his people are demoralized, he must make them strong. Though many wish to see him replaced, he must overcome their challenges.