McBain Brothers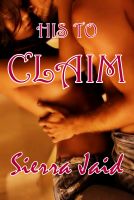 His To Claim
By
Sierra Jaid
Series:
McBain Brothers
, Book 1. Pre-release—available
April 5,
2014. Price:
$2.99 USD.
Words: 14,300. Language: English. Category: Fiction
One girl only ever brought the Wealthy Scot, Trevor McBain, to his knees. And she hates his guts. A night of passion turns every dream Elaine had of love and happiness with Trevor McBain into humiliation. Pride saved her then. But now, a weak moment threatened to bare her soul to him utterly. And the pleasures of his searing kisses are forcing her to trust her heart to her destroyer once again.