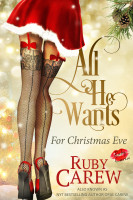 All He Wants For Christmas Eve
by

Ruby Carew

&

Opal Carew
Some Christmas wishes do come true… Juliette storms out on her jackass of a date when he tells her he has a surprise for her and brings in another woman for a threesome. Now alone in the hallway of his apartment wearing barely anything at all, she can't go out in the frigid Christmas Eve night in this tiny Christmas costume and stilettos. Luckily she knows someone else in the building...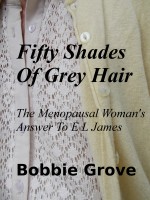 Fifty Shades Of Grey Hair The Menopausal Woman's Answer To E L James
by

Bobbie Grove
(4.00 from 1 review)
A Romantic Comedy, Based On Fact, Fiction And Fantasy, In Which Menopausal Bossy-Boots Emma, Hires Nice-Boy Bobbie, As Her Live-In Housekeeper, To Cook, Clean, Obey And Please Her. Includes: Emma's Angst; "I'm Cold!!!"; Emma Beds Bobbie; Night Sweat; "Now." "Bobbie." "Give Me An Orgasm." And, Emma Gets The Flu; in which Bobbie nurses Emma like an Angel.
Related Categories