Polly Ticks
by

Mary Nova
Dark, and erotically tense, this is a story about one woman, three men, and sexual politics…Polly Ticks.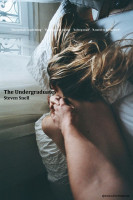 The Undergraduates
by

Steven Snell
(5.00 from 1 review)
An exhilarating portrait of a young man's journey to find purpose in others following a heartbreaking and abrupt separation. The Undergraduates is a novel brimming with truth and immediacy reserved for our generation of lost or misguided adults. Wildly powerful, this is the moving story of one man's search to feel wanted, needed and loved – not always in the most traditional of ways.
Related Categories