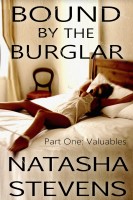 Bound by the Burglar, Part 1: Valuables (A Dark Erotica BDSM Romance Thriller)
by

Natasha Stevens
(4.00 from 4 reviews)
Elena is an underwear model and trophy wife. She has everything a woman could want from life. But one evening she wakes up to find a stranger in her room. The stranger explains that he's going to tie her up and take some things, and that she will not be harmed. But when he attempts to steal some of her most prized possessions, she offers him something more valuable -- her body.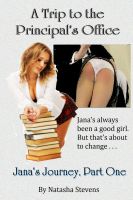 A Trip to the Principal's Office
by

Natasha Stevens
(4.50 from 2 reviews)
Jana is blonde and beautiful, and has just turned 18. She's always been careful to avoid temptation though, so she's still a virgin. The other kids in school think that she's a tease. But she knows that she's a good girl. But all that is going to change one day after school in the principal's office, as Jana begins a dark erotic journey that will forever change her ...