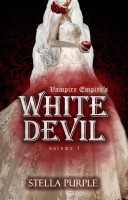 White Devil (Reverse Harem) (#1, Vampire Empire)
by

Stella Purple
(5.00 from 20 reviews)
A Reverse Harem - Vampire story. "There are no dark princes that will sweep your off your feet to an eternal land, 
but their looks sure can drive the mortals mad. Dare to take a bite, dear?" 
─ Amethyst zi Britannia.
Daddy's Playmate Part 1
by

Emma Valentines
(1.00 from 1 review)
It was tempting to see his rock hard abs and fine muscle on his body in the shower despite his temporary useless arms... But that was the tricky part, wasn't it? Irritated at the errand of taking care of the broken arms stepdaddy, Victoria found herself thinking about him, loving him and wanting him more and more. Until when will she stop?
Related Categories