Special Deals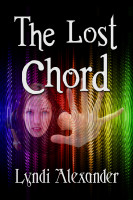 The Lost Chord
by

Lyndi Alexander
(5.00 from 1 review)
As a poisonous wave spreads disease and discord across the eleven known universes, seven special people must strike the Lost Chord in order to restore balance. Among those is Bee, an autistic teenager from Earth. Can Bee help the Conductor find the other Keys before a bitter enemy strikes the wrong chord and shatters the universes? [Young Adult Fantasy from Dragonfly Publishing, Inc.]
The Girl Who Twisted Fate's Arm
by

George Saoulidis
When the daughter of Greece's premier singer fails to sing as expected, she finds out about a biker group of women. But will she manage to find the elusive Orosa, the bikers' motovlogger, when all she has to go on are random street-sightings of criminal behaviour, when her family is opposed to her following this path and when her dad's employer wants to keep her as she was for marketing purposes?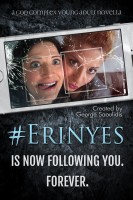 Erinyes
by

George Saoulidis
When a sheltered teenager starts noticing a hazy face following her in her photographs, she begins to investigate an urban legend. But will she uncover the truth when she gets in trouble with a technology corporation, when an enigmatic hacker starts telling her conspiracy theories and when the hazy face becomes all too real and starts chasing her non-stop?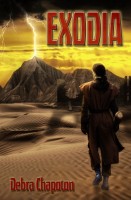 Exodia
by

Debra Chapoton
By 2093 American life is a strange mix of failing technologies, psychic predictions, and radiation induced abilities. Tattoos are mandatory to differentiate two classes, privileged and slave. Dalton Battista fears that his fading tattoo is a deadly omen. He's either the heir of the brutal tyrant of the new capital city, Exodia or he's its prophesied redeemer.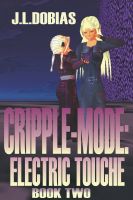 Cripple-Mode: Electric Touche (Book Two)
by

J.L. Dobias
Someone expects Travis to do their dirty work and won't take no for an answer.Parasitic children of the JumpSpace Entities are the root of her problems and she'd love to be rid of them;but there's a fine line between them and what makes her what she is. Everyone thinks they own her, so she must question what constitutes sentience and sapience and if a being who is both should be owned by anyone.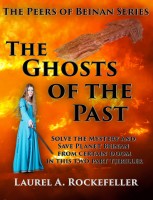 The Ghosts of the Past
by

Laurel A. Rockefeller
Terror fills the air on planet Beinan as unseen serial murderers bomb healing centres planet wide and assassinate the mighty and the humble for reasons known only unto themselves. Caught up in the conspiracy is Lord Knight Elendir, the son of two murdered healers whose grief overwhelms him. Will he solve the mystery and stop the killers before everyone he loves dies?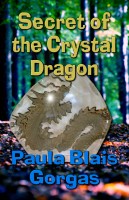 Secret of the Crystal Dragon
by

Paula Blais Gorgas
Guardians of the Blue Planet (Book I): Twelve-year-old Myra tries to protect a baby dragon from an alien group bent on ruling their planet as well as Earth. [Young Adult Fantasy from Dragonfly Publishing, Inc.]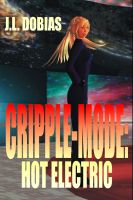 Cripple-Mode: Hot Electric
by

J.L. Dobias
(4.67 from 3 reviews)
Travis Lucia Hamilton-McQueen just back from near death and not keen on revisiting: wants her life back. Granddaughter of a murderer; daughter of a convict; suspected terrorist. No: not that life. A soulless clone amnesiac with a Dissociative fugue identity; consigned to convalesce on Medical Space Station Perl: is bad enough. Mix in a rogue General and some assassins and life becomes interesting.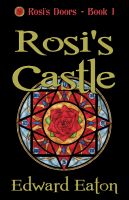 Rosi's Castle
by

Edward Eaton
When newly orphaned Rosi is sent to live with her Uncle in an eerie castle on the New England coast, she is plagued by strange happenings, irate ghosts, and a castle with a mind of its own. [Book I of the Rosi's Doors Series (Young Adult Fantasy) released in 2011 from Dragonfly Publishing, Inc. www.dragonflypubs.com]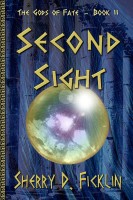 Second Sight
by

Sherry D. Ficklin
(5.00 from 1 review)
The battle between good and evil rages on as Grace Archer fights to destroy an ancient relic, stop a fallen guardian, and rescue the man she loves from the gates of the Underworld. [Book II of the Gods of Fate series (Young Adult Fantasy) released in 2011 by Dragonfly Publishing, Inc.]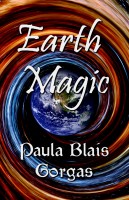 Earth Magic
by

Paula Blais Gorgas
When Jenna enters an abandoned old house, she is transported to an alternate world called EARTH ONE. There she meets Master Sorcerer Nigel, his young friends, and a telepathic cat named Victor. But a perilous encounter with a sorcerer from yet another alternate world threatens to change Jenna's life forever. [OWFI's Best Juvenile Book of 2002]
Related Categories