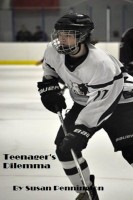 Teenager's Dilemma
Dylan is fourteen and faced with a decision, should he cheat on his English test to secure his position on the Varsity hockey team or should he do the honest thing, study?
Don't Haunt This Place
Seventeen-year-old Amanda has just learned that she's pregnant by her crack-dealing boyfriend. Estranged from her family and most of her friends, the pull of the drugs, Billy, and her old way of life is strong. But she can't do to her baby what her mother did to her. She has to find a way to break the cycle.