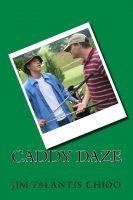 Caddy Daze
Caddy Daze is the story of the summers Jim and his high school friends spent toting golf bags at a country club in Westchester, N.Y. The offbeat denizens of the caddy yard are lovingly presented, presided over by a caddy master whose formal education ended in the 6th grade -- but who holds dual degrees from the schools of hard-knocks and street smarts.
Why Bad Golf Happens To Good People/It's Your Brain Not Your Game!
(4.00 from 1 review)
Every golfer has left the course thinking about the short putt they missed or trying to justify their poor performance by declaring that their "head wasn't in the game." All golfs recognize the importance of the mental game and need to practice as much mentally as they do physically.