Sub-categories:
Self-publishing | Screenwriting | Playwriting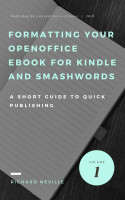 How to Format or Reformat your OpenOffice eBook for Kindle and Smashwords
by

Richie Neville
Contrary to what you may read elsewhere it does not take several hundred pages and a degree in computing to format your eBook correctly for upload to both KDP and Smashwords. Nor do you need to have the latest version of Microsoft Word. This short, easy to read guide gives you all the information you need to use the free OpenOffice program to get your books online, fast!