Sub-categories:
Self-publishing | Screenwriting | Playwriting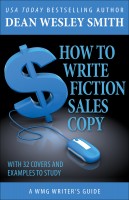 How to Write Fiction Sales Copy
by

Dean Wesley Smith
USA Today bestselling author and former publisher Dean Wesley Smith knows how to navigate the complicated world of publishing. And now, he shares his experience to help writers tackle the most challenging writing of all: Fiction Sales Copy. In this WMG Writer's Guide, Dean addresses the major challenges that lead to bad sales copy and offers 32 examples of good sales copy.