Sub-categories:
General | Serial killers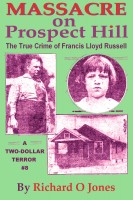 Massacre on Prospect Hill: The True Crime of Francis Lloyd Russell
by

Richard O Jones
Hamilton, Ohio, was a notorious hide-out for Chicago gangsters in the era of Prohibition, and they brought with them vice and violence. The city's most horrific crime in that time had nothing to do with bootleg whiskey or fancy women, but with a hard-working bachelor trying to take care of his sick brother's family. He loved them so much, he would rather see them dead than homeless.