Sub-categories:
General | Serial killers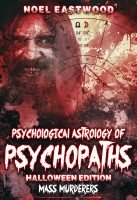 Psychological Astrology of Psychopaths: Mass Murderers - Halloween Edition
by

Noel Eastwood
What do these infamous mass murderers have in common? Psychologist astrologer Noel Eastwood takes you into the dark, inner world of the mass murderer to discover what makes them different to the rest of humanity. Using a psychological astrology approach he walks you through the charts of the psychopaths responsible for the Columbine HS, Sandy Hook School and the Port Arthur massacres.