Sub-categories:
General | Serial killers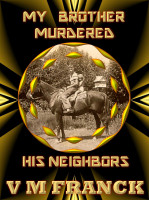 My Brother Murdered His Neighbors
by

V. M. Franck
(5.00 from 3 reviews)
If you've ever wondered what it's like to be the family of a murderer, my true story will show you, allowing you to experience it with me. You see my big brother, the guy who gently dabbed mud on my bee sting when I was four to ease my pain and bounced me trampoline-style on a blanket, murdered his neighbors. This heart-wrecking event devastated not only their families, but ours.