Sub-categories:
General | Serial killers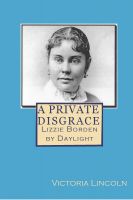 A Private Disgrace: Lizzie Borden by Daylight
by

Victoria Lincoln
Lizzie Andrew Borden was tried and acquitted in the 1892 axe murders of her father and stepmother in Fall River, Massachusetts. Media coverage of the case created a furor throughout the United States reminiscent of the Rosenberg, Claus von Bulow and O.J. Simpson trials. No other suspect was ever charged with the double homicide, and speculation on the case continues to this day.