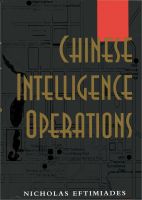 Chinese Intelligence Operations
by

Nicholas Eftimiades
This book is by far the best ever published on the subject. The author makes extensive use of primary and secondary sources including active Chinese Intelligence officers, internal Chinese documents, and publications. His approach is clearly analytical with no unsupported opinions. This work is the only one of its kind. It remains a "bible" in the Intelligence Community.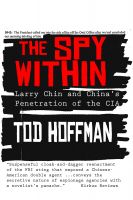 The Spy Within: Larry Chin and China's Penetration of the CIA
by

Tod Hoffman
Written with a novelist's panache, this is the true story of the Chinese spy who penetrated the CIA, and for 30 years revealed America's intelligence secrets to his masters in Beijing. Larry Chin, the CIA's top Chinese linguist, was China's top spy. "A successful cloak-and-dagger reenactment of the FBI sting that exposed a Chinese-American double agent in 1985, " said Kirkus.