Sub-categories:
Christmas | Humorous | Family | Adventure | Halloween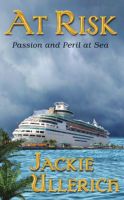 At Risk: Passion and Peril at Sea
by

Jackie Ullerich
At Risk explores the complexities of love and marriage, as well as the dark side of racism and bigotry—all aboard the luxury cruise liner, the Sea Star. A cruise along the Mexican Riviera is the setting for a disparate group of passengers who dine together nightly. In that intimacy, they reveal aspects of their lives and family backgrounds which sets in motion a terrifying series of events.