Sub-categories:
Christmas | Humorous | Family | Adventure | Halloween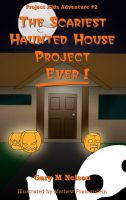 The Scariest Haunted House Project - Ever!: Project Kids Adventures #2
by

Gary M Nelson
A surprise announcement brings the Project Kids back together in a two-school competition to build the best Halloween display. Armed with Vampires, Goblins, Zombies, Ghosts and the lessons they learned on their previous adventure, it seems like there is no way they can lose! Join the Project Kids as they embark on their bravest adventure yet – to build the Scariest Haunted House – Ever.