Sub-categories:
Christmas | Humorous | Family | Adventure | Halloween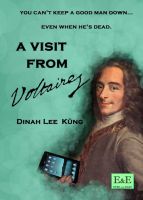 A Visit From Voltaire
by

Dinah Lee Küng
Nominated for the UK's Orange/Baileys Prize for Fiction, A Visit From Voltaire brings the incorrigible 18th-century troublemaker back to life as he haunts the Swiss farmhouse of a newly-arrived American and her family. Over the course of a single winter, a comic Voltaire evolves from the Houseguest-from-Hell into her wisest friend, teaching her how to live life to the fullest. Funny and original.